Brad Marchand making mark with Team Canada
Monday, 12 September 2016 14:01
Forward showing he's more than agitator playing on top line
OTTAWA - This was a perfect opportunity for Brad Marchand to reinvent himself into the player he wants to be, the player he wants the hockey world to know him as.
He's made his mark with the Boston Bruins as an agitator, and in a way, no matter what he does with Team Canada at the World Cup of Hockey 2016, there are many people who will always see him that way.
But you don't make Team Canada by simply being an agitator. You need to be able to play.
Through two pretournament games, including a 5-2 win against Team USA on Saturday, Marchand has proven he can do that.
Team Canada coach Mike Babcock decided to scratch captain Sidney Crosby in large part because his line with Patrice Bergeron and Marchand played so well in a 4-2 loss to Team USA on Friday that Babcock didn't feel the need to see it anymore.
Brad Marchand Named To Team Canada's World Cup Of Hockey Roster
Friday, 27 May 2016 00:00
BOSTON, MA – The National Hockey League announced today, May 27, the final rosters for the 2016 World Cup of Hockey, and Boston Bruins forward Brad Marchand was selected to compete for Team Canada.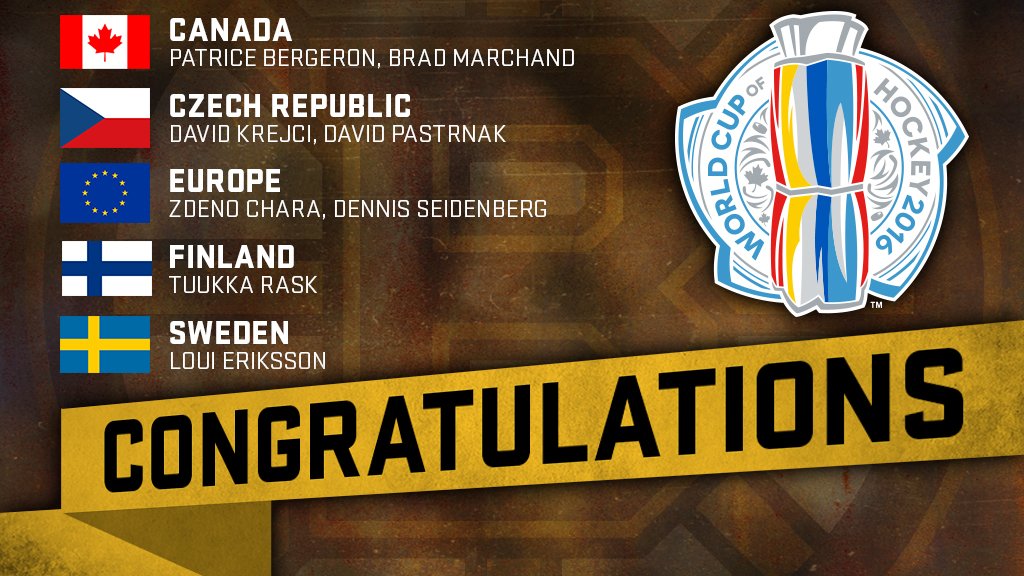 Marchand's selection will reunite him with Bruins teammate Patrice Bergeron, who was named to Team Canada's preliminary roster on March 2. Zdeno Chara (Team Europe), Loui Eriksson (Team Sweden), David Krejci (Team Czech Republic), David Pastrnak (Team Czech Republic), Dennis Seidenberg (Team Europe) and Tuukka Rask (Team Finland) will also represent the Bruins at the 2016 World Cup of Hockey, which will take place from Sept. 17 to Oct. 1, 2016 at Air Canada Centre in Toronto, home of the NHL's Toronto Maple Leafs. The two-week tournament, featuring eight teams comprised of more than 150 of the best players in the NHL, will progress from the Preliminary Round to the Semifinals and ultimately the Final.


Read More…
Marchand, Canada Capture Gold at 2016 IIHF Men's World Championship
Sunday, 22 May 2016 00:00
BostonBruins.com – It's gold for Brad Marchand and Canada.

The Canadians took down previously undefeated Finland, 2-0, in the gold-medal game Sunday afternoon for their second straight IIHF Men's World Championship title.


Marchand assisted on Matt Duchene's empty-netter with 1 second remaining to seal the victory. The Bruins winger finished the tournament with four goals and three assists in 10 games.

Marchand, a Nova Scotia native, added a goal in Canada's 4-3 semifinals win over the United States on Saturday. After a give-and-go with Cody Ceci, Marchand got the puck at the goal line and fired one past goalie Keith Kinkaid to give Canada a 2-0 lead.

Read More…
Page 2 of 7